BEHIND THE SCENES IN KRABBITWORLD


- Summary - History - Evolution - Transition -
We're coming out of an interminable dark tunnel at long last. After 10 full-time years of content development on my part and 5 years full-time (5 years part-time) of tech, programming, animation etc. on Dean's part, over several Krabbit games we are going into hobby dev mode. No longer are we hardcore, full-time, heads down sacrificial, slaves in 24/7 crunch mode. Farewell pasty-faced cave dwelling self! Gym and sunshine, here I come!
Wearing all the hats, we two journeyed through several ambitious projects, learning as we went, and effectively completed a worthy game, though not entirely what was hoped it would become. We had, after all, as my Mom would have said, "chosen the hardest row to hoe" in making the game we wanted to play.
With too much time invested extending hobby engines and the real ones out of reach, we've finally made the leap to build our own. No longer shall we be held hostage by network or performance limitations or inaccessible source code! Thus the birth of iCauldron3D.
Depleted resources and bridled visibility for KWO have forced our hand but it's a good thing. No more isolation, new opportunities and a more healthy balanced life await. Fitness, friends and family will reclaim their proper place! Future Krabbit content will be released at a pace more relaxing for two people in their spare time. In Engrish: we're getting day jobs and all the benefits that come with! Hobby dev mode, here we come! :)
KRABBIT PREVIOUS PROJECTS LIST:
KrabbitWorld
2D multiplayer Krabbit RPG for MacOSX and Windows abandoned in 2000 for 3D, partly ported to Java for web in 2010 now online
KrabbitWorld Labyrinth
3D Peer2Peer multiplayer game for MacOSX, Windows and Linux released in 2006 with incomplete tutorial, now free to download from our web site
Krabbit Fighter
3D high poly Krabbit Fighter Game, content began development in 2007, never released
Krabbits, terrain and multiplay networking deployed to Xbox 360 and PSP
KrabbitOnline
3D online multiplayer Krabbit game partly developed in 2008 for MacOSX and Windows featuring our Attitude System now offline
KrabbitWorld Origins
Single player Action Adventure RPG for MacOSX and Windows featuring streaming content and our own DRM released in 2009 with updates
CONTENT IN DEVELOPMENT (never released)
Karrellica, the Floating Island
Heightmap used to create 3D mesh of the Floating Island. Object done. Texturing in progress. Can be used as a level and for screens and video clips.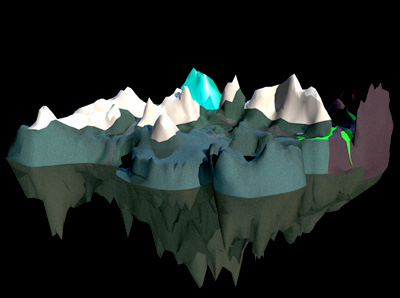 English 简体中文版 Nederlands Français Deutsch Ελληνικά Italiano 日本語 한국어 Português По-русски Español
KrabbitSoft Studios Inc. Copyright © 2000-2009 all rights reserved